Anything I.T. and the Geek Collective provide an I.T. Support service and Website design to business clients in Plymouth, South West of the UK.
Office 365 is becoming Microsoft 365. The blog post below describes products as they were named before 9th April 2020.
The full list of new names of the products are as follows:
Office 365 Business Essentials is now Microsoft 365 Business Basic
Office 365 Business Premium (this post) is now Microsoft 365 Business Standard
Microsoft 365 Business is now Microsoft 365 Business Premium
Office 365 Business is now Microsoft 365 Apps for business
Office 365 ProPlus is now Microsoft 365 Apps for enterprise
---
OFFICE 365 FOR BUSINESS PREMIUM
Anything I.T. offers a superb range of products and services to help small businesses. Products such as OFFICE 365 FOR BUSINESS PREMIUM can provide efficiency and a quick way to access certain information.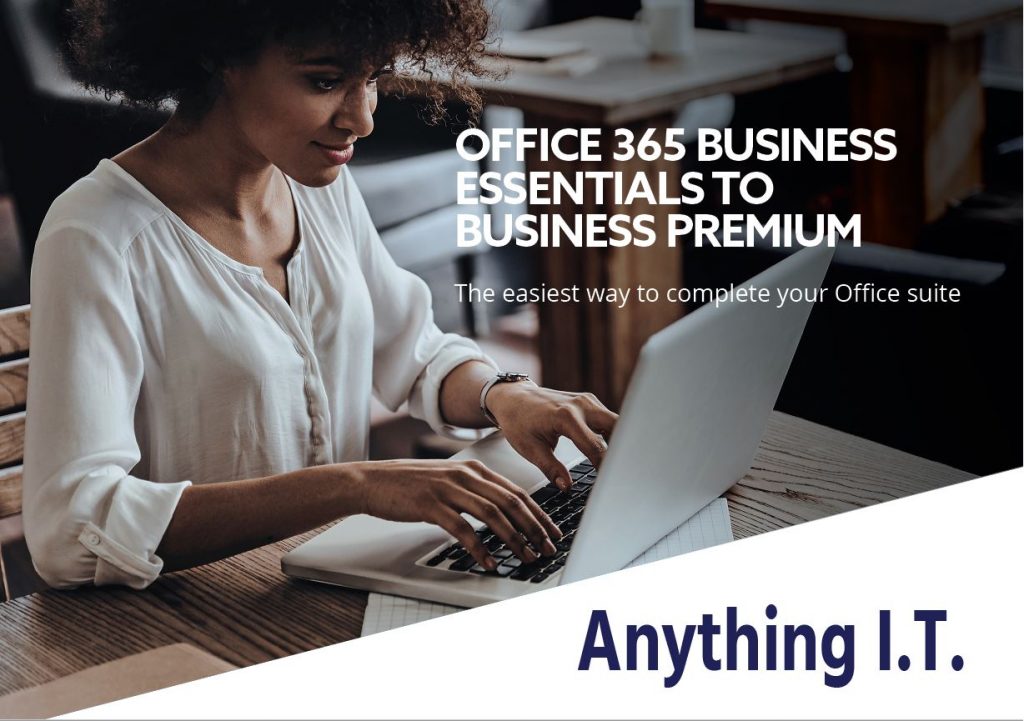 Why would that be important?
Because having trouble-free/speedy access to information and the ability to get the right information to your customers is essential to run an efficient business.
Used well, the business can profitably grow and the products Anything I.T. offers can grow with you too. In other words, you won't have to change the product or services when you grow from 4 employees to 10. Or from 10 to 50.
OFFICE 365 FOR BUSINESS PREMIUM is one such product (or service if you like) that can grow with your business.
What do you get for your money (check latest prices here)?
BUSINESS CLASS EMAIL
ONE DRIVE
OFFICE SOFTWARE
SHAREPOINT
MICROSOFT TEAMS
BUSINESS CLASS EMAIL
What does "BUSINESS CLASS EMAIL" mean?
Your mailbox is hosted on Microsoft's Exchange servers, one of the best business-class email hosting platforms around. Typically, if you purchased your own domain name and set up an email address, it likely will be a simple mailbox accessed by a protocol called POP3
You get 50GB of storage in your mailbox! That's huge! Some mailboxes today can be as small as 100Mb (that's 500 times smaller!). If you went for a Gmail mailbox, you might get 15Gb of space which is pretty good.
The default maximum size for sending and receiving emails is around 35Mb which is a lot larger than your typical mailbox which might be 10Mb or sometimes 20Mb per email. This 35Mb allows you to send larger attachments between co-workers or others you work with. And why not? In this day and age of superfast broadband, sending a 30Mb design document to your co-worker to look over should not be an issue.
ONE DRIVE
With OFFICE 365 FOR BUSINESS PREMIUM, you also benefit from the 1TB ONE DRIVE.
This is plenty enough space for most business users to store documents and files in the Cloud.
With One Drive installed on your PC, mobile and via a web browser, you can access your files from literally almost anywhere.
OFFICE SOFTWARE
All the main desktop office software you need including:
Microsoft:- Outlook, Word, Excel, PowerPoint, OneNote, Publisher, Access
Via a web browser:
Web versions of Outlook, Word, Excel and PowerPoint

One license covers 5 phones, 5 tablets, 5 PCs (or Macs) per user. Plenty enough devices capable of accessing your information.
SHAREPOINT
Quote from the Microsoft SharePoint site:
"Organizations use SharePoint to create websites. You can use it as a secure place to store, organize, share, and access information from any device."
MICROSOFT TEAMS
Collaborate, chat and communicate about documents and projects your Team is working on.
Associated resources
Be sure to check out the resources below for more information.