Anything I.T. and the Geek Collective provide an I.T. Support service and Website design to business clients in Plymouth, South West of the UK.
---
Workflowy is a productivity app (web and for phones). I love Workflowy and use it heavily when I want to 'get things down "on paper"'.
Workflowy is different to other productivity apps in that it's all about Lists.
You create a List, then drill into the List to create sub-lists and so on.
What I like about it is the fact that you can focus on one specific list (or sub-list). You don't have your screen cluttered with dozens of other related or semi-related lists or projects.
If you want to spend time thinking about what you need to do for your summer holiday, you can create a list (perhaps under a main list you created called 'Personal'?) and focus just on that list. Maybe you will create sub-lists under 'Summer Holiday' of 'Travel', 'Costs', 'Clothing', and so on.
Perhaps you are an Under 19's football coach? Well, why not create a list under 'Personal' called 'Sports'. And inside that list one called 'Under 19's Team'. You could then focus on what needs to be done for that team by creating sub-lists for 'Players', 'Matches', 'Practice'. You get the idea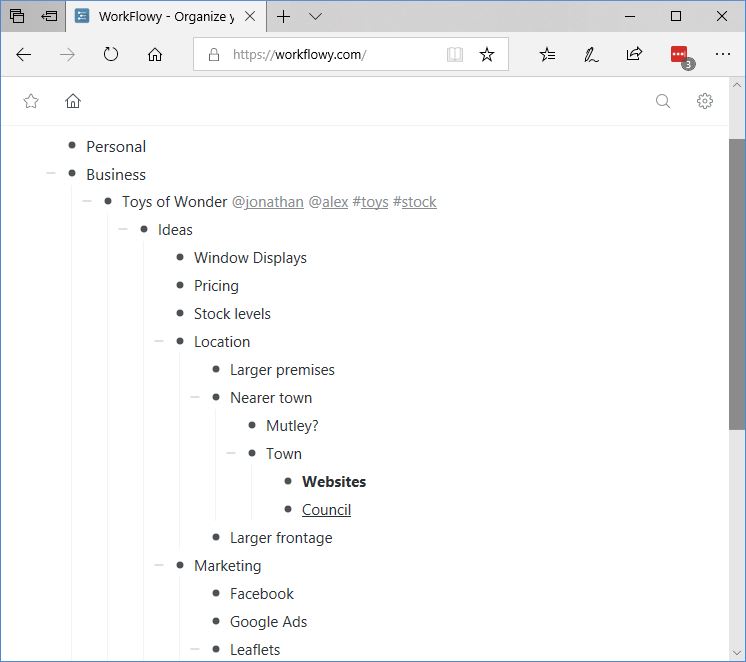 Check out the video to see how it works!
Please let us know by email, Facebook Messenger or in the Comments any questions you might have.