Anything I.T. and the Geek Collective provide an I.T. Support service and Website design to business clients in Plymouth, South West of the UK.
---
We've all heard of SEO right? Search Engine Optimisation? But what is 'Onsite SEO' and 'Offsite SEO'?
Getting your website to rank (on the likes of Google or Bing) as highly as possible for certain keywords or phrases is called Search Engine Optimisation.
It is often seen as a dark skill, and extremely difficult to get good ranking. To be fair, for the average website of a small business, it is very difficult!
What this blog entry hopes to help with is to at least give you some guidance on how you can make small changes to best optimise your website.
Onsite SEO
Onsite SEO is stuff you can do to your web pages such as the actual text you write (called 'content') and the meta tags of the page.
You may have heard of 'Content is king' and to a large extent it is! Google (we'll use Google as our search engine of choice for now) has some very clever algorithms which can see whether a website/web page is useful to the potential site visitor.
So that's the first thing you need to know. Make sure your website content is relevant to the potential site visitor. If you are a garage that specialises in fixing classic cars, then make sure the pages on your site reflect this.
Don't over populate the site with what you think are the right keywords. Don't flood your site with 'classic car repairs'.
Here's one example that shows how Google knows how good your site is:
First impressions
Let's say a searcher searches for' classic car repairs' and clicks into your site. The searcher has a quick look at your home page but doesn't get inspired and doesn't immediately see the information he/she is expecting. The searcher then hits the back button and continues their search for another website.
What do you think Google is going to think about your site now? Would Google be wrong to assume that perhaps your site isn't a good site to show in the search results? Especially since searchers seem to be going back to search results pretty quickly to look for another site?
So lesson one would be to make sure your site is decent to look at, works well on mobile devices and also has the content once would expect when they search for 'classic car repairs'.
Meta tags
Just a quick one on meta tags. They are still relevant! The <title> tag and <description> tag are both used to show searchers in the search results. Like this: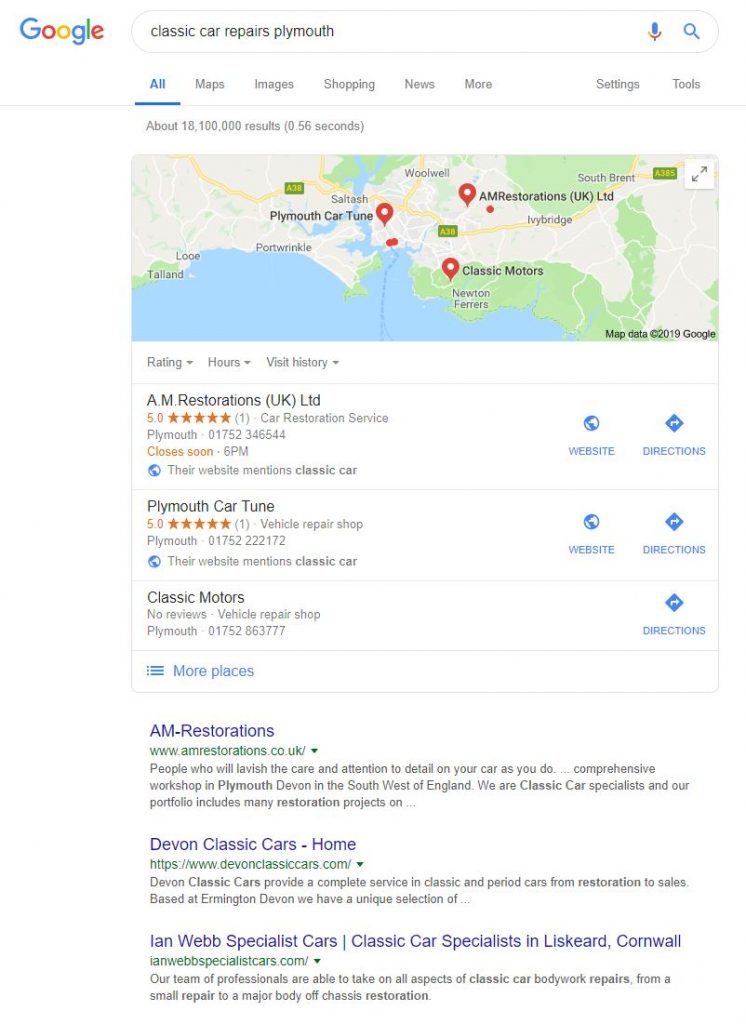 In the image above, you can see three organic results (I'm referring to the ones at the bottom of the image). AM-Restorations; Devon Classic Cars – Home and Classic Car Resprays, Bodywork and Restoration | car resprays. body …
Let's take the bottom result as an example. In the HTML code of the site there is the following:
<title>Ian Webb Specialist Cars | Classic Car Specialists in Liskeard, Cornwall</title> 
Editing this code to reflect your site is important. If you use a system such as WordPress, you can change this in settings. Other sites will have similar options to change the title of your page. The same goes for the description tag.
If you have a custom designed site, then you will either have to edit this yourself or get your web designer to do it for you.
That's enough to be going on with on Onsite SEO. Below is a short description on Offsite SEO.
Offsite SEO
Offsite SEO as the term suggests is SEO relating to your site that happens away from your website. This includes getting links from other sites to yours, setting up a Google account with a business address, phone number, opening hours and so on.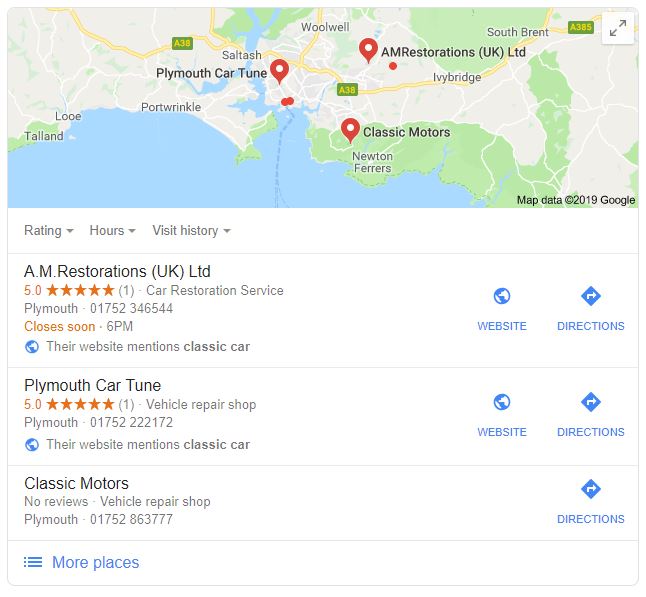 Offsite SEO might also include details about your business on social media sites such as Facebook, LinkedIn, Twitter.
This side of SEO is huge and deserves another blog post (or three!) on another day. For now, concentrate on your website (Onsite SEO) and how it looks to the visitor.
Does your site retain the visitor for more than a few seconds? Can they find useful information about your services and related topics?
Feel free to comment on this post on Facebook/Twitter/LinkedIn if you have any questions.